\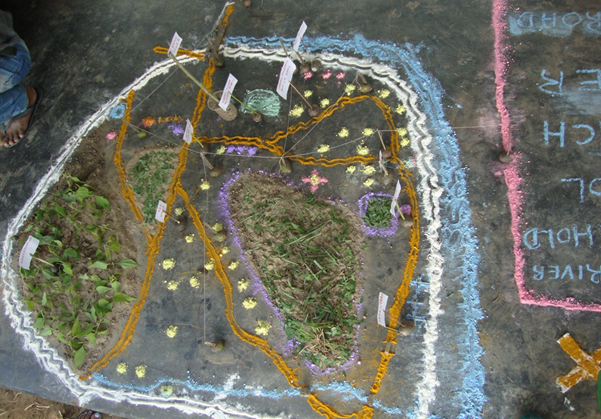 The Backward Region Grant Fund (BRGF) was initiated by the Ministry of Panchayati Raj to fill the critical gaps in development that are not adequately met by the existing sector specific programmes, to encourage and strengthen local governance by building their capacity and provide professional support to local bodies. In Meghalaya BRGF is implemented in three Districts namely West Garo Hills, South Garo Hills and Ri Bhoi, as Meghalaya is a Non-Part IX State having no Panchayati Raj the BRGF in the State is implemented by the Village Employment Councils (VECs), which are authorized bodies implementing MGNREGS at the village level. These three Districts share among them 15 Community & Rural Development Blocks, 736 Area Employment Councils (AECs) and 2640 Village Employment Councils (VECs) which are responsible in implement the programme at the grass root level. The VECs are the main implementing body and exist at village level, the council consist of all the job-card holders and is represented by Programme Implementing and Executive Council (PIEC) consisting of 1 Chairman, 1 Secretary and 3 members.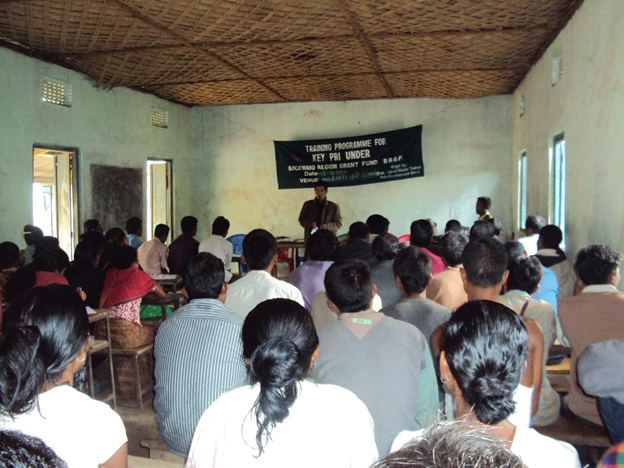 BRGF through its two funding windows viz. Development Grant component and the Capacity Building Component provide assistance to the people living in the backward regions of the country. Through the Development Grant component assistance is provided for developing infrastructure as per the plan proposed by the beneficiaries and approved by the High Power Committee. About 11% of the total allocation is earmarked for the Capacity Building and Training activities under Capacity Building Component which is used for delivering Foundation courses, Functional courses, Sectorally Focused Thematic courses, ICT courses, Skill Development courses, Exposure Visit, etc. for the stakeholders, Officers and Officials of various Departments. The various heads under which different types of training is organized for various target group are as given below-
Foundation Course on-
Re-orientation programme on BRGF
Role and responsibilities of Office Bearers and Members of VEC/PEIC/AEC
Transparency and Accountability
Village Level Planning
Local Self Governance and people's participation
Basic Functional Course on-
Book keeping and Maintenance of records
Identifying critical gaps
Planning and Implementation
Monitoring and Supervision
Monitoring and Evaluation
Leadership and team building
Social Auditing
Local Self Governance
Courses on Convergence
Gender Equity
Right To Information (RTI)
Social Mobilization and Collective Decision Making
Functional Literacy Course on-
Special courses for illiterate Office Bearers
Skill development courses to enhance employability of rural youth-
Agricultural extension
Animal husbandry
Minor engineering repair
Plumbing
Minor Electrical work
Entrepreneurship
Hospitality and Tourism
Computer Training and Programme for development of human resource with respect to IT and computers
Refresher Courses on-
Maintenance of record
Village Planning
Monitoring and evaluation
Social Audit
Transparency and Accountability
Local Self Governance
Training programme on "Ethical Governance and Public Service" is proposed to be organized for the stakeholders.
Others as may be identified and required during the period of BRGF implementation.
Courses for Community Level Workers
Village Planning
Social Audit
Transparency and Accountability
Book keeping and Maintenance of Records
Measurement of Works
Capacity Building and Training Performance during 2013-2014
During the year 2013-2014 an amount of Rs. 1.04 Crore was sanctioned by the Ministry for conducting various capacity building activities in the entire State.  The amount was utilized in organizing various training programme covering participants from the State, District, C&RD Block and other Departments. The training programme was conducted by SIRD, Extension Training Center (ETC), BRGF Districts and its C&RD Blocks. The training organized are as given below-
Functional Courses
ICT Skills
Refresher Courses
Awareness Programme
Foundation Courses
Certificate/Skill Development Programmes
Exposure Visit
During the last financial year a total of 394 training programme was conducted at various level of implementation for the stakeholders, Officers and Officials of various Department, the total participation achieved was 22665 with 14228 male and 8437 female participation. The summary of all the training is a as given below-
| | | | | | |
| --- | --- | --- | --- | --- | --- |
| Sl. No. | Training programme | No. of Training Programme | Total participation | Male | Female |
| 1 | Functional Course | 307 | 14254 | 8493 | 5761 |
| 2 | ICT Skills | 2 | 39 | 37 | 2 |
| 3 | Refresher Course | 7 | 329 | 214 | 115 |
| 4 | Awareness | 16 | 2622 | 2147 | 475 |
| 5 | Reorientation | 43 | 4211 | 2673 | 1538 |
| 6 | Foundation | 15 | 1082 | 559 | 523 |
| 7 | Certificate Course | 2 | 66 | 56 | 10 |
| 8 | Exposure Visit | 2 | 62 | 49 | 13 |
| | Total | 394 | 22665 | 14228 | 8437 |
During the last financial year a lot of emphasis was given on participatory planning such that maximum number of training programmes organized where exclusively for planning. A series of Village Development Planning programme was organized under which the importance of participative planning was explained and the technique named Participatory Rural Appraisal (PRA) was taught where participants with the aid of colour powders drew their village map showing roads, dwelling place, resources, etc. without any help from any outsider. This approach makes it easy to have participative planning where everyone is free to suggest, ensuring the best plan for village development is taken. About 307 number of programmes were organized exclusively on Village Development Planning (VDP) during the financial year 2013-2014 having a total participation of 14,254. As part of Functional Course the Gram Sevaks and Sevikas under the BRGF Districts were also trained on "Ethical Governance and Public Service". The training was taken by the faculty form Initiative of Change (IofC) form Panchgani, Maharashtra along with other resource person form SIRD and other Departments for the Domain training. This was followed by an Exposure Visit to IofC, Panchgani for the selected participants to learn more about the Ethical Governance and Public Service. Skill Development Training was another effort taken up by SIRD directed towards providing livelihood security to the stakeholders. SIRD in collaboration with IL&FS Skills Development Corporation Limited had conducted a training programme on Placement Linked Skill Development on hospitality and construction works. Out of the 41 participants till the date last information was received 31 were placed in various establishments. From the 31 participants 3 where offered work in Barbeque National, Guwahati, 2 Barbeque National, Chennai, 14 at Sodexo, Bangalore and 12 at Hygienic Services, Goa. A report submitted by IL&FS is enclosed. Other such training programme are proposed to be taken up in near future to ensure capacity of the beneficiaries are truly magnified and they become self-reliable.
Staffing:
The BRGF (PMU) is managed by the following officers and staffs:
| | | |
| --- | --- | --- |
| Sl. No. | Name | Designation |
| 1. | Shri Marshall Kharbani | Programme Manager |
| 2. | Ms. MonaLiza Nongbri | I.T. Manager |
| 3. | Ms. Leaticia Jana | Accounts Assistant |
| 4. | Shri Gordon R Kharkongor | Data Entry Operator |
| 5. | Shri Gerwister Nengnong | Training Assistant |
| 6. | Shri Ceejay K. Dunai | Training Assistant |
| 7. | Smt. Pretty N Talang | Training Assistant |
| 8. | Shri Phedrick Kurbah | Driver |